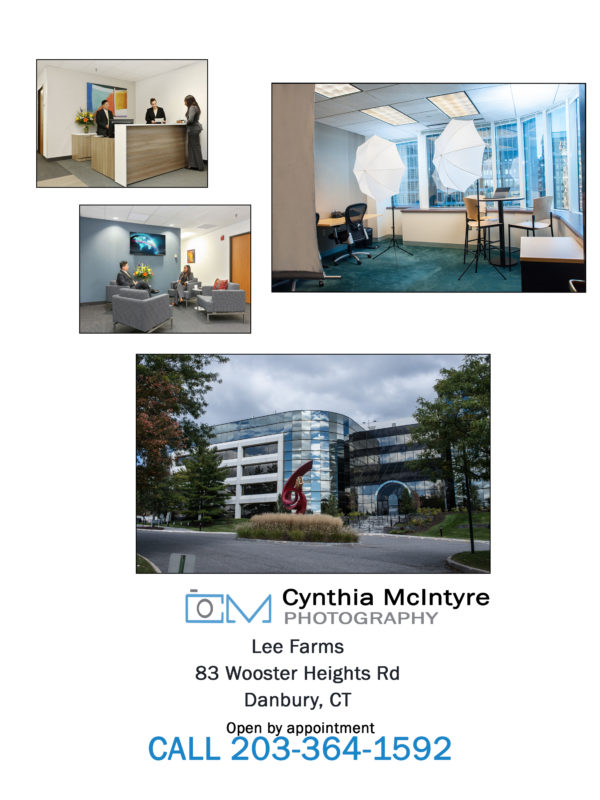 Danbury CT Photographer, Cynthia McIntyre Photography – Headshots for Business Men and Women in Danbury CT
Cynthia McIntyre, the Danbury CT Photographer, has multiple portrait studios conveniently located for business women and men in Danbury CT. This Danbury CT Photographer also works on location- therefore, she can come to your office to create studio quality headshots or executive portraits.
As a busy corporate executive, this Danbury CT Photographer, understands that most business women and men have limited time to have a headshot created. Therefore, in only 45 minutes, Cynthia will create a headshot that will make you look your best.
She will consult with you in advance to plan the portrait session that is consistent with your personal brand. The Danbury CT Photographer will recommend the appropriate environment or background as well as attire so that you will look professional and successful. She will pose you in such a manner that your body language reveals you confidence. At least 80 images will be taken during your session. Cynthia McIntyre will review the proofs with you following your session to assist you to select the best image.
For more information, contact Cynthia at 203-364-1592.
Cynthia McIntyre Photography
83 Wooster Heights Rd
Danbury, CT
open by appointment
.q||[]).push(arguments)},i
.l=1*new Date();a=s.createElement(o),
m=s.getElementsByTagName(o)[0];a.async=1;a.src=g;m.parentNode.insertBefore(a,m)
})(window,document,'script','https://www.google-analytics.com/analytics.js','ga');
ga('create', 'UA-48216930-2', 'auto');
ga('send', 'pageview');