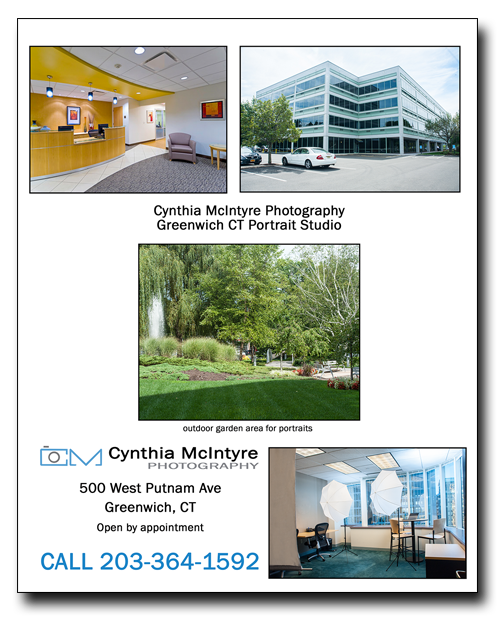 For directions to the Greenwich Portrait Studio, click on the blue DIRECTIONS icon below:
Cynthia McIntyre Photography is the premier Greenwich CT Photographer specializing in headshots and business portraits for your use on company websites, Linked In, corporate business cards, emails or social networking sites. You can trust that this Greenwich CT Photographer will create an image that you will proudly display for future clients or possible employers. With five portrait studios in Westchester NY, and one in Greenwich CT, the Greenwich CT Photographer has one near you!
In as little as 30 minutes she will create a headshot that will ensure you look your absolute best!
Prior to your session, Cynthia McIntyre, the Greenwich CT Photographer , will consult with you regarding clothing and how to prepare for your session. She will assist you during the session to feel comfortable and relaxed so your expressions come naturally and do not look forced. During your session, she will pose you in a variety of ways and elicit a variety of expressions. A minimum of 60 images will be created so you will have a wide variety to select from!
Cynthia McIntyre, will personally review the proofs with you following your session. As you review your images, she will use your extensive experience in photographing corporate executives to suggest portraits that enhance your personal brand or corporate image.
Of course, all portraits are completely retouched to your satisfaction to bring out your best yet do not look overly retouched. (YES, she can make you look younger and thinner using her special retouching techniques).
Call Cynthia McIntyre today at 203-364-1592 for more information or to schedule a time that is convenient for you at one of her five portrait studios in Westchester NY or her Greenwich CT portrait studio.
This Greenwich CT Photographer is also available to come to your office to photograph you (and/or all of your co-workers) in Westchester NY, Connecticut or NYC. The headshots she creates on location are of equal quality to those created at one of her portrait studios.
Your satisfaction is guaranteed!
Your professional image reflects your professionalism to the world.
As it has been said many times, a picture is worth a thousand words.
What does your current headshot say about you?
Are you using a photo taken at a family picnic for your business headshot?
Was your headshot taken by your wife with an iphone in your dining room?
Professional business portraits and headshots are our specialty at Cynthia McIntyre Photography, the Westchester NY Photographer! You can trust that she will expertly photograph you and then retouch your headshot to ensure you look fantastic!
You will proudly display your business portrait or headshot created by Cynthia McIntyre on your website, business card, Linked In, social networking site, marketing material, etc.
She understands the anxiety that people feel when getting a business portrait or headshot. Therefore, she will help you feel at ease during your portrait session at her photo studio so smiles will come naturally.
Cynthia McIntyre Photography provides the highest quality business portraits or headshots (head shots) to business men and women in Westchester NY and Fairfield County CT at one of her conveniently located studios in Tarrytown, Rye, and Hawthorne , with 2 studios in White Plains, NY or Greenwich CT. For more info or to schedule a headshot portrait session with this Greenwich CT Photographer CALL 203-364-1592.
Cynthia McIntyre Photography
500 West Putnam Ave
Greenwich, CT
open by appointment only
CALL 203-364-1592