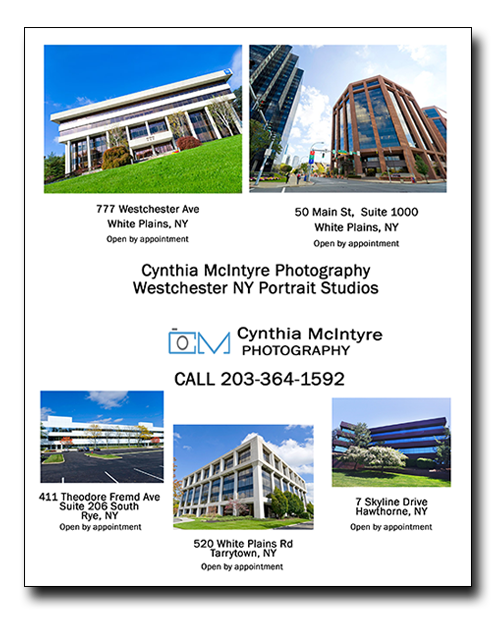 Harrison NY Photographer, Cynthia McIntyre Photography, Executive Portraits and Headshots
Are you in need of an updated headshot? Are you photophobic? Do you never take a good photograph and consequently hate having a portrait taken? Cynthia McIntyre, the Harrison NY Photographer, understands your anxiety and will assist you to feel more comfortable in front of the camera. Her portrait sessions are relaxed and stress free.
Cynthia McIntyre, the Harrison NY Photographer, has multiple portrait studios throughout Westchester NY for your convenience and ease.
Cynthia McIntyre understands that you have limited time to get a professional headshot. Rest assured, it takes only 45 minutes or less (and you will not feel rushed!) Cynthia schedule portrait sessions every two hours so she has ample time to spend with you should you need the additional time.
This Harrison NY Photographer will help you to pose is such a manner that you will appear confident and successful. She will take at least 80 images and then review them with you so you can select the one that you prefer to use for websites, business cards, emails, etc.
Appointments must be booked in advance.
Call Cynthia McIntyre at 203-364-1592 for more info or to schedule your portrait session.
Cynthia McIntyre Photography
411 Theodore Fremd Ave
Suite 206 South
Rye, NY 10580
phone 203-364-1592
email:Info@CynthiaMcIntyre.com