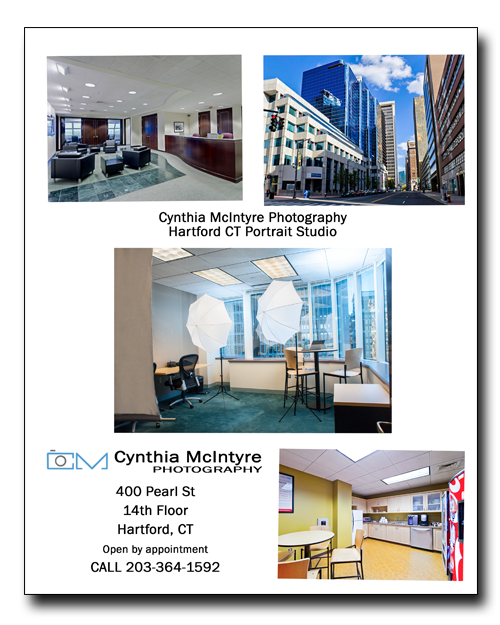 For directions to our headshot portrait studio blick on the BLUE DIRECTION ICON below:
As the capital of Connecticut, Hartford is the hub of many businesses. Cynthia McIntyre Photography, the Hartford CT Photographer, is able to meet the needs of the many business men and women by providing the highest quality headshots for use on LinkedIn, websites, business cards, etc.
Your headshot speaks volumes about you! Therefore great care should be taken when selecting your headshot photographer. Rest assured, Cynthia McIntyre, the Hartford CT Photographer will create a headshot that you will proudly use on all of your marketing materials!
Her studio is located within steps of many of the largest offices in Hartford at 100 Pearl St. However, if it is easier for you, Cynthia can come to your office to create your headshot! Cynthia will bring her portable studio and all necessary equipment so your final headshot will look at though it was taken in one of her portrait studios! It takes only 30 minutes of your time.
This Hartford CT Photographer understands that many people are hesitant to get their portrait done. Are you one of these photo-phobic people? Rest assured, a headshot session with Cynthia is stress free and FUN! Your smiles will come naturally so you will look relaxed and comfortable in the final image.
Of course, all headshots are retouched to your satisfaction. (Yes, we can make you look younger or thinner!) Cynthia's clients frequently refer to her as a "magician" because of the magic she performs upon their headshots using photoshop.
Cynthia can also come to your office to create business headshots or executive portraits. She will bring all necessary equipment to your office so you need only provide an area for her use. The quality of business headshots she creates on location are the same as those created in one of her 16 headshot portrait studios throughout CT. IT takes only 30 minutes of your time for Cynthia McIntyre to create a business headshot at your office- how convenient!
For information or book you headshot contact Cynthia McIntyre Photography directly at 203-364-1592.