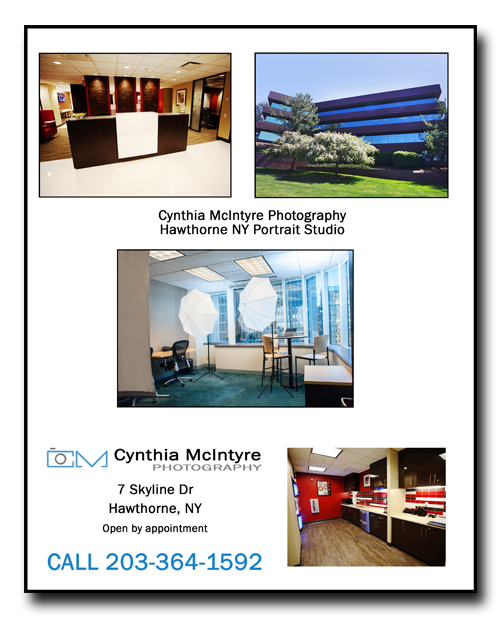 For directions to the headshot portrait studio in Hawthorne NY click on the BLUE DIRECTIONS icon below:
Hawthorne NY Headshot Photographer, Cynthia McIntyre Photography, provides exceptional business headshots and business portraits at a convenient location.
Cynthia McIntyre, the Hawthorne NY Headshot Photographer, has a portrait studio conveniently located for business women and men on Skyline Drive in Hawthorne NY.
Cynthia understands that getting a headshot or business portrait created by the Hawthorne NY Headshot Photographer can be anxiety provoking and stressful. She will assist you to be prepared via a phone consultation before your session in which you will share your vision for the perfect headshot portrait. This Hawthorne NY Headshot Photographer will provide guidance regarding proper attire and how to prepare for your session. In fact, she even has a terrific hair stylist and makeup artist that can provide this service prior to your portrait session at her studio.
A portrait session with the Hawthorne NY Photographer is stress free and relaxed. In fact, most clients are heard to say, "that was fun" prior to leaving her portrait studio in Hawthorne NY! Cynthia will create a minimum of 80 images during your portrait session. She knows that you have a busy schedule with little time, therefore the session will take only about 40 minutes. However, this Hawthorne NY Photographer does not want you to feel rushed during your session so clients are scheduled every 2 hours. Consequently, if you need more time she will be able to provide this to you. On the day of your session, Cynthia will review your images with you so you can narrow down your selections to you absolute favorite. Her clients appreciate the input Cynthia offers in helping them to select an appropriate image consistent with their personal brand or corporate image.
Best of all, all headshots and business portraits by the Hawthorne NY Photographer are retouched to your satisfactions! As an expert retoucher, you will be amazed how great you can look! And yes, Cynthia McIntyre CAN make you look younger or thinner! You can expect to receive your final retouched image within 72 hours after the portrait session with the Hawthorne NY Photographer. If needed, she can provide the final retouched portrait to you on the day of your session.
If preferred, Cynthia can come to your office and create professional high quality business portraits or headshots at your office. She will bring all of the needed equipment- you need only provide a room or area about 10 feet x10 feet for her use in the creation of the portraits.
For additional information CALL 203-364-1592
Cynthia McIntyre Photography
7 Skyline Drive
Suite 350
Hawthorne, NY 10531