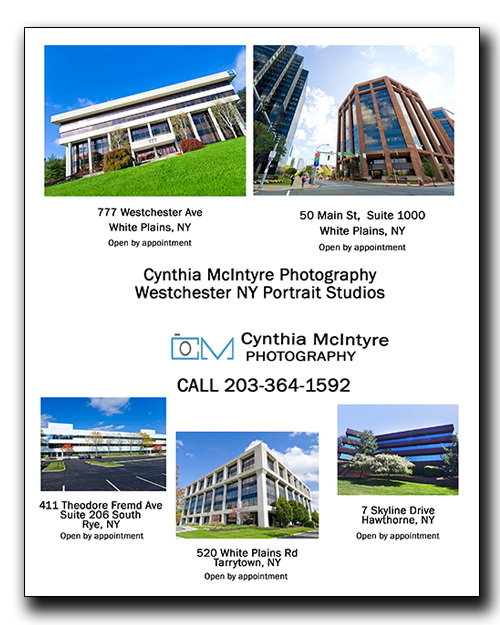 Headshots and Business Portraits by Cynthia McIntyre, the Mt Vernon NY Photographer
This Mt Vernon NY Photographer, Cynthia McIntyre has five portraits studios in Westchester NY for the convenience of business men and women.
Our specialty is headshots and business portraits- not weddings, families or baby portraits! You can be assured to receive a GREAT headshot from Cynthia McIntyre Photography, the Mt Vernon NY Photographer.
Cynthia McIntyre will assist you to plan a headshot session that will portray you in a positive manner consistent with your personal brand or corporate image. She will suggest appropriate attire for your profession as well as provide information about how to prepare for your headshot session.
Cynthia McIntyre, the Mt Vernon NY Photographer, has an exceptional hair stylist and makeup artist that style your hair and makeup prior to your portrait session. Women that have their hair and makeup done for a portrait session report that they feel additional confidence when having their headshots created. Our hair stylist and make up artist is a skilled and experienced professional that understands how to make a woman look her best!
Following your headshot session, Cynthia McIntyre will review the images with you to assist you to select the best one. Your headshot will be enhanced by an expert graphic artist. Retouching or image enhancement is done in such a manner that you do NOT look overly retouched or "photoshopped." If you prefer, our graphic artist can make you look younger or thinner!
Your satisfaction is guaranteed!
CALL 203-364-1592
Cynthia McIntyre Photography studio locations:
411 Theodore Fremd Ave, Suite 206 South
Rye, NY
(open by appointment)
—-o—-
520 White Plains Rd, Suite 500
Tarrytown, NY
>(open by appointment)
—-o—-
7 Skyline Dr. , Suite 350
Hawthorne, NY
(open by appointment)
—-o—-
The Exchange at White Plains
777 Westchester Ave, Suite 101
White Plains, NY
(open by appointment)
—-o—-
50 Main St, Suite 1000
White Plains, NY
(open by appointment)