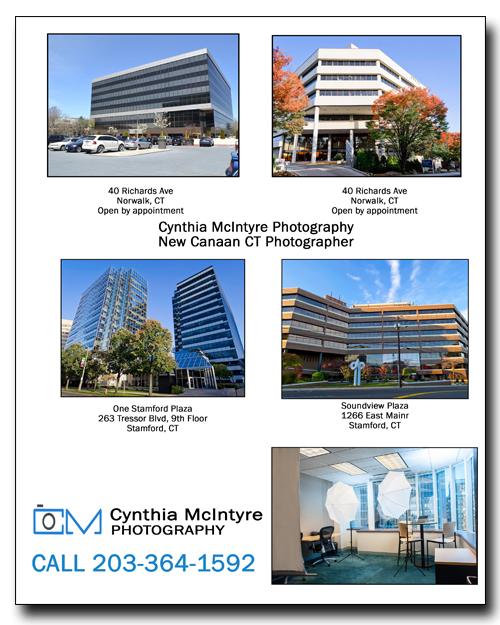 New Canaan CT Photographer
New Canaan CT Photographer, Cynthia McIntyre Provides Corporate Headshots For Local Business Men and Women
Cynthia McIntyre, the New Canaan CT Photographer, provides multiple studios within an easy commute for residents of New Canaan. Cynthia McIntyre specializes in creating the highest quality of business headshots!
She does not photography babies, families, weddings or high school seniors.
As an expert headshot photographer, she understands the importance of looking your best in your executive portrait or headshot. This New Canaan CT Photographer will provide guidelines regarding attire and the overall look for your headshot to ensure that it is consistent with your personal brand.
Contact her today for more information and pricing at 203-364-1592
Cynthia McIntyre Photography, the New Canaan Photographer, portrait studios within an easy commute include:
Cynthia McIntyre Photography
468 Post Rd East
Westport, CT
—-o—
Cynthia McIntyre Photography
101 Merritt 7
Norwalk, CT
—o—
Cynthia McIntyre Photography
1266 East Main St
Stamford, CT
—o—
Cynthia McIntyre Photography
500 West Putnam Ave
Greenwich, CT
New Canaan, CT has a population of almost 20,000 residents. It was established in 1731 via Connecticut's colonial legislature as the Canaan Parish. It;s primary occupation after the Revolutionary War was shoe making. In 1868, the railroad was extended to New York City and as a consequence, many of New York City's wealthy elite built homes in New Canaan because the commute was manageable.
New Canaan is a beautiful New England town with white picket fences and white tall spired churches. It is very picturesque year round with booming rhododendrons in the spring, lush green vegetation in the summer, bright fall colors and White Christmas type snows all winter long. The residents are, for the most part highly educated white collared professionals working commuting the short distance to New York City daily.
Notable residents of New Canaan, CT
Christopher Lloyd, actor
Martin Mull, actor and comedian
Paul Simon, singer and songwriter
Brian Williams, anchor of NBC Nightly News
Barry Williams of The Brady Bunch
Mike Wallace (journalist) (1918-2012),
Bill Toomey, 1968 Olympic decathlon champion
Glenn Beck, conservative TV show host
Dave Calhoun CEO of Nielsen
Things to do in New Canaan, CT
The Philip Johnson Glass House
New Canaan Playhouse for a movie
Mead Memorial Park is a gem with ample playgrounds, ball fields, tennis courts, and waterways where kids can feed the ducks