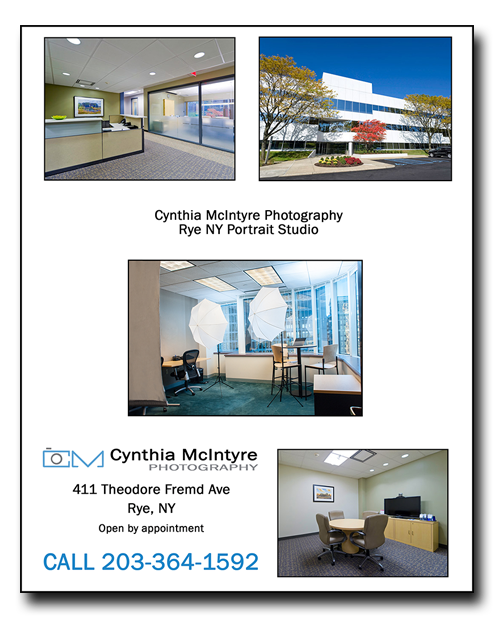 For directions to the Rye NY Headshot Photographer Portrait Studio click on the BLUE DIRECTIONS ICON below:
Rye NY Headshot Photographer, Cynthia McIntyre Photography Creates Headshots at Your Office or Her Rye Portrait Studio
Cynthia McIntyre Photography, the Rye NY Headshot Photographer, creates headshots and business portraits for individuals or an entire office for corporate executives, speakers, business-people, and job-seekers in need of a great headshot.
The Rye NY Headshot Photographer will personally craft your headshot to create a great business portrait or headshot that is the best representation of you. Your headshot or business portrait should be a glimpse into your personality and professionalism.
Whether you are a business professional, an actor, model, or musician, a headshot will be required during your career, as an important component to showcasing your character.
Cynthia McIntyre, the Rye NY Headshot Photographer will consult with you to craft the headshot session to meet your needs. She will provide clothing recommendations and suggestions regarding how to prepare for your session including hair and makeup. If you desire, her hair stylist and make up artist can style your hair and makeup at her studio prior to your portrait session.
Portrait sessions are stress free and relaxed so you appear comfortable in your final portrait. Smiles come naturally and expressions appear relaxed. Cynthia will provide instructions regarding how to look your best in front of the camera. During the session, this Rye NY Headshot Photographer typically takes at least 80 images so you will have a large variety of poses and expressions from which to select.
Cynthia McIntyre will personally review your images with you following the session and assist you to select an image that is consistent with your personal brand and reflects your personality in a positive manner. All portraits are expertly retouched by Cynthia, the Rye NY Headshot Photographer to ensure you look fantastic! As an expert retoucher, Cynthia can work wonders in enhancing your image. She can even make you look younger or thinner!
If preferred, Cynthia McIntyre Photography can come to your office to crate professional business portraits and headshots. She will bring all necessary equipment so the final portraits and headshots will look as though they were created in a portrait studio. You need only provide a room. Since she brings all of the necessary lighting, the room can be windowless!
Same day delivery of files is available. Call 203-364-1592 to schedule your portrait session by the Rye NY Photographer.
Cynthia McIntyre Photography
411 Theodore Fremd Ave
Suite 206 South
Rye, NY 10580
(open by appointment only)
.q||[]).push(arguments)},i
.l=1*new Date();a=s.createElement(o),
m=s.getElementsByTagName(o)[0];a.async=1;a.src=g;m.parentNode.insertBefore(a,m)
})(window,document,'script','https://www.google-analytics.com/analytics.js','ga');
ga('create', 'UA-48216930-2', 'auto');
ga('send', 'pageview');