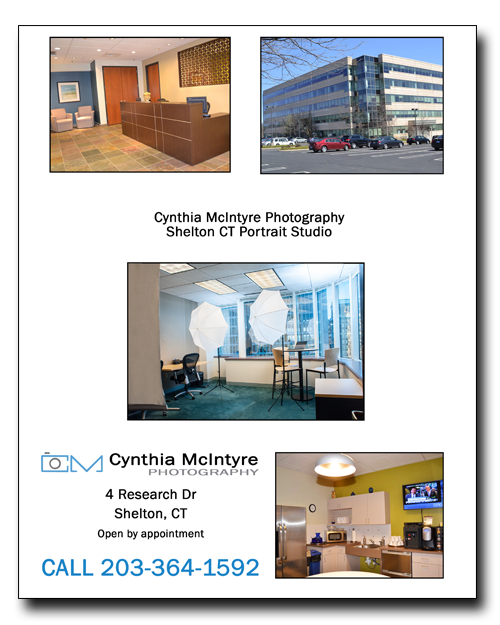 For directions to the Shelton CT Portrait Studio of Cynthia McIntyre Photography click on the BLUE DIRECTIONS icon below:
Shelton CT Portrait Studio
Cynthia McIntyre Photography, the Shelton CT Portrait Studio, has a portrait studio located in the One Reservoir Corporate Center on Research Drive in Shelton CT for your convenience. This contemporary office building is convenient for business men and women in need of a professional headshot.
What does your headshot or LinkedIn profile photo say about you? Was it created by a friend at a recent wedding? Did you cut yourself out of a photo that originally had other people in the image so you can see part of an arm behind your head? Or worse yet, are you using a selfie?
Business portraits and headshots are an important part of your personal brand or "image" that you project to potential customers or employers. A headshot or business portrait created by a professional photographer tells that viewer that you are serious about your profession. It instills confidence and trust in the viewer.
Cynthia McIntyre, the Shelton CT Portrait Studio, is an expert at creating GREAT headshots and business portraits. She specializes in headshots. She does not do them because weddings occur on weekends and she needs something to do during the week. She does not photograph pregnant women, families, or brides. She photographs business men and women that need a fantastic head shot created by a photographer that is skilled at creating business portraits and headshots that will ensure you look your best. She is an expert a retouching your portrait in such a manner that you will not look "retouched." Yes, she CAN make you look younger or thinner if that is your preference! Call the Shelton CT Portrait Studio to schedule your portrait session in Shelton or one of her other portrait studios throughout CT and Westchester NY.
Cynthia McIntyre Photography
One Reservoir Corp Ctr
4 Research Dr, Suite 402
Shelton, CT 06484
(open by appointment only)
phone 203-364-1592