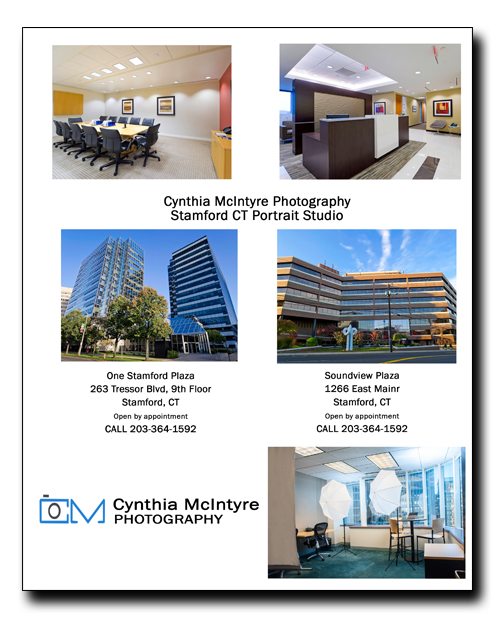 In today's busy "keep ahead world", business men and women have very little time to go to a professional photographer's studio to get a headshot taken. Yet, astute business men and women recognize the importance of a high quality business headshot taken by a skilled photographer that is experienced at creating headshots! Therefore, Cynthia McIntyre, the Stamford CT Photographer can come to your office to set up her portable studio to create a business headshot you will actually be proud to use for social media, LinkedIN, websites, etc. She will bring all of her needed equipment- you need only provide an office or conference room. It takes only a few minutes of your time. If you prefer, you can come to one of Cynthia McIntyre's two headshot portrait studios in Stamford.
A headshot session with Cynthia McIntyre is stress free and fun so you will look natural and relaxed in your headshot. She will take a variety of images (over 120) so you will have many to select from. Finally, she will review the proofs with you in a private consultation following the session so you can select the best headshot that is consistent with your personal brand.
Cynthia McIntyre Photography, also creates acting headshots that get you noticed by casting directors! She will consult with you prior to your acting headshot to discuss clothing and preparation. Then, on the day of your session she works with actors to bring out your personality and attitude. She knows what casting directors are looking for so you can trust that she will create the best acting headshot!
This Stamford CT Photographer has two portrait studios in convenient locations in Stamford CT. These Stamford portrait studios of the Stamford CT Photographer are only open by appointment. CALL today 203-364-1592
Cynthia McIntyre Photography
One Stamford Plaza
263 Tressor Blvd 9th Floor
Stamford, CT 06901
–o–
Cynthia McIntyre Photography
Soundview Plaza, Suite 700R
1266 E Main St
Stamford, CT 06902
.q||[]).push(arguments)},i
.l=1*new Date();a=s.createElement(o),
m=s.getElementsByTagName(o)[0];a.async=1;a.src=g;m.parentNode.insertBefore(a,m)
})(window,document,'script','https://www.google-analytics.com/analytics.js','ga');
ga('create', 'UA-48216930-2', 'auto');
ga('send', 'pageview');