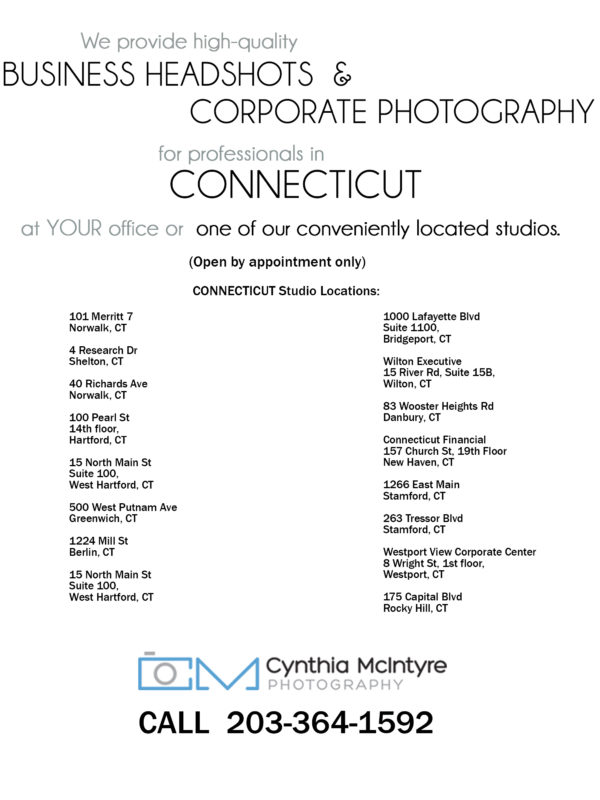 Cynthia McIntyre Photography, the Waterbury CT Photographer Specializing in Headshots and Business Portraits.
The Waterbury CT Photographer has portrait studios located in West Hartford and Shelton CT for your convenience. Since our portraits studio is only open by appointment, we ask that you call 203-364-1592 to schedule a time that is convenient for you.
All portrait sessions are unique because no two people are the same. Therefore, Cynthia McIntyre will consult with our prior to your headshot session to learn how you want to be photographed and to provide clothing recommendations that will be consistent with your personal brand or corporate image.
A business portrait speaks volumes about you. The Waterbury CT Photographer has extensively studied body language as it relates to a professional business portrait. For example, if you chin is a fraction of an inch too high, you could look unapproachable while the placement of your chin too low can make you appear to be meek and mild. Cynthia will carefully suggest poses that will ensure that you look confident and successful. Proper posing can even make you look thinner and younger. Her sessions are relaxed and stress free so you expressions will come naturally.
Following your session, Cynthia will personally review the proofs with you and assist you to select an image that is consistent with your personal brand and personality. She will provide an opportunity for you to discuss specific retouching requests that you may have. As an expert retoucher, the Waterbury CT Photographer, will enhance your image without making you look "overly" retouched. Best of all, if you would like, she can make you look younger or thinner!
Cynthia McIntyre Photography is available to come to your office to create headshots and executive portraits. She will bring everything required- you need only provide a room large enough for her to create the portraits that everyone in your office will proudly display on their emails. LinkedIn, company website or business cards. Discounts are given for multiple headshots at the same office.
Call Cynthia, the Waterbury CT Photographer, at 203-364-1592 to plan your business portrait or headshot.
Cynthia McIntyre Photography
phone 203-364-1592