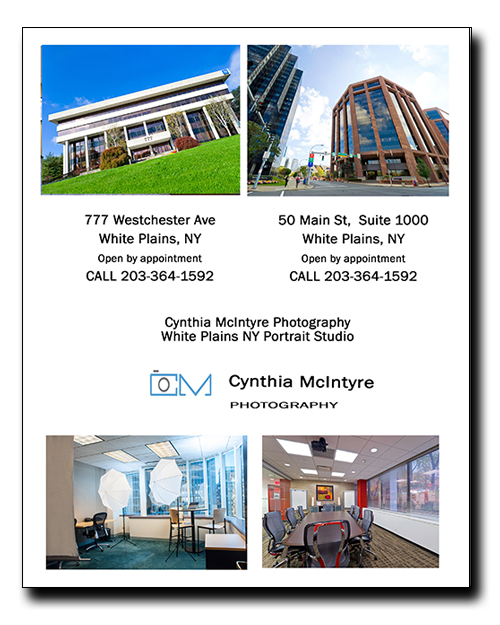 The White Plains NY Photographer, Cynthia McIntyre Photography, has TWO portrait studios in White Plains NY located in Westchester county for business headshots and acting headshots. Cynthia McIntyre specializes in creating business headshots and acting headshots.
High quality acting headshots in White Plains NY
No longer are you required to go to NYC to get a high quality headshot for business, acting, theater, or music. Cynthia McIntyre understands what Casting Directors are looking for in an acting headshot. She will coach and guide your during your acting headshot session to make certain that your headshot has that "spark" they are looking for.
Two headshot portrait studios in White Plains
Her portrait studio is located at The Exchange Place at 777 Westchester Ave in White Plains. She also has a portrait studio in downtown White Plains steps away from the metro North train station. Clients can take the metro North train and walk to this studio located less than a block from the train station at 50 Main Street in White Plains.
It take on 30-45 minutes to get the highest quality professional business headshot or acting headshot. During that time, Cynthia takes an average of 120 images to ensure she can provide a nice variety for you to select from. She will then sit with you to help you look at your headshot in an objective manner.
For more info or to book your headshot portrait session with Cynthia McIntyre, the White Plains NY Photographer, contact her at 203-364-1592.
If you prefer, Cynthia McIntyre can come to your office or location of your choice to create your headshot. You provide the room (such as a conference room) and she will bring everything else including the backdrop!