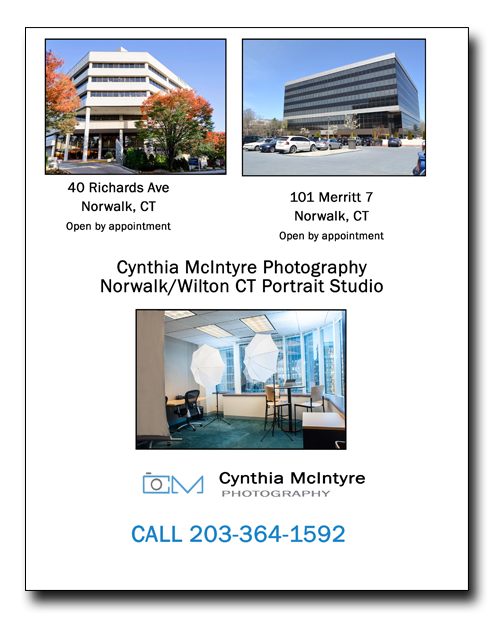 Cynthia McIntyre, the Wilton CT Photographer Headshots for Busy Business Men and Women
This Wilton CT Photographer, Cynthia McIntyre, specializes in taking executive portraits or headshots for business men and women that think they are photo-phobic or unable to have a good photos taken of themselves. Cynthia, the Wilton CT Photographer frequently hears a new client comment, "I really do not like to have my photo taken! I never look good in photos!"
Are you photo-phobic?
Cynthia McIntyre, the Wilton CT Photographer, creates GREAT executive portraits or headshots for the photo-phobic or non-photogenic! She will consult with you before your session to assist you to plan the headshot session that presents you in the proper manner to meet your professional image.
Do you require a headshot for your company website? Are you ready to update your LinkedIn profile photo? Is it time to toss the selfie you took at a wedding four years ago? A professionally created headshot by the Wilton CT Photographer, Cynthia McIntyre Photography, speaks volumes about your professionalism.
Cynthia will provide recommendations to guide you in your selection of attire for your headshot session as well as how to prepare so you look professional and confident! How you dress impacts your final headshot dramaticaly. Jewelry or the color that you wear can be distracting to those that view your head shot so that those viewing your image will not even notice your face!
This Wilton CT Photographer provides the services of a makeup artist and hair stylist if desired for an additional fee.
During your private headshot session, the Wilton CT Photographer will encourage you to be comfortable and relaxed. Expressions come naturally. Cynthia McIntyre will go over the proofs with you to help you choose the best headshot that enhances your corporate image.
All headshots are retouched
All headshots are retouched to your satisfaction! Your appearance will be enhanced without making you look as though you were "photoshopped." Our clients especially appreciate it when Cynthia McIntyre, the Wilton CT Photographer, make them look younger or thinner!
Cynthia McIntyre has portrait studios throughout CT and Westchester NY. However, she has one at the border of Norwalk and Wilton that is most convenient to business men and women living in Wilton, CT. If you prefer, Cynthia McIntyre can bring her portable studio to your office anywhere in CT to create business portraits or headshots that appear as though they were created in a portrait studio.
This Wilton CT Photographer can be reached at 203-364-1592.
open by appointment
—–o—-
—–o—-